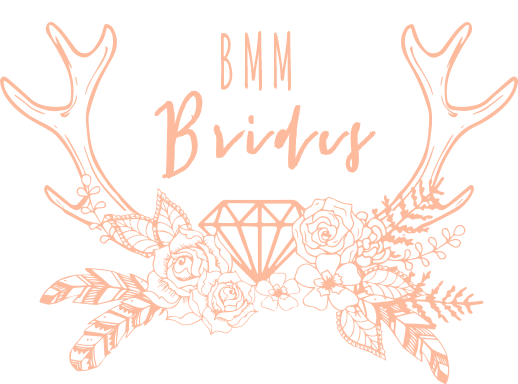 Maria
&

Jamie

"We're not artistic so Christine at BMM was able to create a beautiful set based on our ideas."
"We arranged a simple ceremony at the Registry Office in Glasgow with immediate family and a few close friends (who feel like family), followed by a dinner and drinks at the Grand Central Hotel. The hotel appealed to us because of its character and the restaurants amazing hospitality.
Our wedding wasn't very conventional. Everything that could go wrong did go wrong. I ripped my dress when I was putting it on, forgot to take my beautiful bouquet a florist friend made me and I arrived before the groom (he tells me he got stuck in traffic and wasn't heading for the airport!). But once the ceremony started all the drama disappeared and the day was truly magical.
We chose Bloody Mary Metal for our rings because as we are both nurses we wanted rings that would be simple enough to wear to work, but still elegant and romantic. We're not artistic so Christine at BMM was able to create a beautiful set based on our ideas. Every time I look at the half heart engraved on my ring it makes me realise that, just like the rings, me and Jamie work well separately, but we are only really complete when we are together."
Flowers: http://showersofflowers.co.uk/
Photography: https://www.facebook.com/emeraldimaging/
×

Close
Jess
&

Jordan

"I guess you would describe our wedding as 'alternative' but to us it was just what we like; Dr Martens, unique places and rad friends. Fun and comfortable!"
"We chose Halloween for the big day on the Halloween the year before, we had no idea that at the time we would have LITERALLY just opened our tattoo studio the same month. Considering how crazy it was for us at the time the day went perfectly! Our daughter Nora was just over a year old and was a bridesmaid along side my younger sister.
We chose the Dome on Worthing seafront for our wedding, it's a beautiful old Cinema with an amazing Atrium room with full view of the beach that we chose to hold our ceremony and reception in.
One of my main focus' for the wedding was shopping with small or unique business' for accessories, rings and my dress.
I am so glad I had found Lucy and her BMM team, our wedding bands are perfect, we had two of them stamped with "Happy" and "Halloween"
A year later for our anniversary I got us another set, Mine says "Mulder" and his "Scully" they fit perfectly together, especially mine with my antique Amethyst engagement ring! 3 years ago- and I still wouldn't have changed a thing!"
Dress- Modcloth
×

Close
Emma
&

Timothy

"When it came to choosing our wedding rings, it was pretty obvious we'd choose you!"
"We married on 29th October 2015 on a mega grey day!
Our wedding was super cheap but was all about us. We decorated the venue with Halloween bits and bobs and had the glittery wedding cake of our dreams!
My engagement ring was made by BMM and it is perfect. I'm not about loads of sparkles (the wedding cake was an exception!) but I knew I wanted it to stand out. My engagement ring is rose gold with a black diamond and it is my most treasured item.
Our wedding rings match, we knew we wanted the stacked rings and something personal added to them.
I have a tattoo that says "Til death" and I got it in relation to Tim. He's my foundation and holds me together at times and those words mean so much. We decided that we'd have "Til death" on our rings and we're so glad we did.
Finding wedding rings can be hell! We are so lucky to have found you guys. To know that our rings are made just for us is brilliant. Wedding rings are personal, it's not just a gold or silver band, it's something that holds so much love.
Oh, I'm getting emotional!"
×

Close
Tess
&

Pete

"Having had our rings made at BMM gives us the satisfaction and happiness every day that we made the best possible choice."
"After deliberating that I didn't really know at all what style of ring I wanted to get, the only things I was left with were – I want something locally crafted, something made with materials that are ethically sourced and something well suited to our lifestyles so it stands the test of time. My worst nightmare was to be sold a pre-made shiny ring, by a man in a shiny suit who cared little about where his metals and stones come from and who cares negligibly about my proposal. Provided it all went to plan, my best man was going to be the brother of Christine, at BMM – how convenient! So off I went to pay them a visit. After advice, opinions and options, I soon had a beautiful crafted ring in hand; one which was well thought out to fit my specifications perfectly and hopefully it would fit her finger as well.
After a lakeside proposal in North Carolina, which was met with a 'yes', came the next stress…wedding bands. My fiancée and I went back to BMM. She chose something which fitted well with her engagement ring and I wanted something indestructible for my work. They even accommodated my French family tradition of engraving the inside of the bands.
The wedding day is always said to be the best day of your life and indeed it is; for us it was a cracking sunny day in May, on the edge of the cliff in Portloe, Cornwall. The best man didn't lose the rings, and Christine was there to see them fit. As special as the wedding day is, the rings are the constant reminder of your marriage, the one thing you see every day."
The Bowyers,
Indiana, USA
×

Close
Amanda
&

Richard

"We are both really fussy when it come's to jewellery so having the option of customising something was the perfect choice for us!"
"For our wedding we couldn't decide on a theme so we just picked things we liked, whiskey, tacos, unicorns, cake, and a venue that looked like a mixture between Alice in Wonderland & Pet Sematary. We wanted the entire wedding to be as personal as possible, not only the ceremony but the music, the food, the outfits.
We picked things that were close to our heart, my friend made my bouquet, my mum & I made our bridesmaid dresses & we decided to get customised wedding rings to top it all off! Since BMM designed my Pink Diamond engagement ring (with some help from Rich), it was the obvious choice for us! The process was so easy!
Our venue was available for hire for 5 days so we rented all of the cottages and started with a bbq and ended with some pool parties & a unicorn bonfire. There were lots of tears as my Mum walked me down the aisle. As my dad is no longer with us, we had a small toast to him after the wedding & it will stay with me forever that Rich knew exactly what to say when I couldn't speak for crying. I don't think I could plan a better few days if I tried again, even the things that went wrong ended up being perfect."
×

Close
Lydia
&

Ed

"BMM were amazing and they offered us something the shops could not – our perfect rings!"
"We were married outside in a walled garden by Prussia Cove! With nooks, crannys and hidden tunnels its a truly unique, rustic, romantic setting on the stunning Cornish coast line. The stunning location and glorious sunshine set the scene for the best day of ours lives and so many friends & family contributed in so may ways,  new friendships were made and we felt amazingly lucky and privileged to have so many great mates with us.  The vibe was positive and though it sounds cheesy we felt blessed.
We were chuffed when BMM confirmed we could make our rings in their Cornish workshop, because we were married in Cornwall we thought it was great that the rings came from Cornwall too.  It was fab to learn so many new skills with Lucy & Tristan. We really enjoyed making our rings and absolutely love the end products. When friends compliment the rings (which is a common occurrence) it is so satisfying to be able to say we made them ourselves obviously with a little / lot of help from our friends at BMM!"
×

Close
Colin
&

Tash

"We couldn't have asked for a better company for such sentimental pieces"
"Our day was a laid back, secret garden ceremony with a handful of our closest friends and family. Followed by fine wine and even better food, cooked by professional chef and friend Jamie Scott, on a balcony overlooking the sunset on the River Tay. With so many personal touches we knew there was no one else to make the perfect custom grooms wedding band and groomsmen's gifts than the lovely people at Bloody Mary Metal. With their friendly and professional attitude paired with the love for kick ass designs we couldn't have asked for a better company for such sentimental pieces."
Photography by Alan Campbell (Burfly Photography)
×

Close